Quick Facts of Mapire:
Population: 40 hab (census 2001).

Gentilicio: Mapirero.

Currency: Bolívar fuerte (VEF)

Economy : Fishing, Agriculture and Tourism.

huso horario: (GMT -4:30)

Electricity:110/60.

código telefónico: 0294.

código postal: 6161.

coordenadas:10°39′15″N 62°07′25″W

Official Language:Spanish .

Religion:Most of the population is of Christian denomination.

Mayor: Regulo Sucre.

Patron Saint :The Virgin of the Valley (Virgen del Valle) - May 31rst

Commune Council President: Gabino Patiño.

People :
Most people in Mapire are fishermen, an unique people, you can see their smile just stroll through the charming streets of thr village and you will agree with us. It is difficult to make new friends..... .
How to get to Mapire :
Service is available by shared taxies from Guiria to Mapire and from there by Sea or
Arriving at Guiria, head to the main harbor, just opposite to the customs office, where boaters will offer service to Rio Grande.
formed by a meandering mangrove that penetrates one kilometer from the coast to the port of the town.
Climate :

Mapire, is in the tropics, enjoys a tropical maritime climate influenced by the northeast trade winds.,the average temperature is 26 ° C, and the average maximum temperature is 34 ° C during the day and around 20 ° C average night. The humidity is high, particularly during the wet season, when the average 85% . receives an average of 211 cm ³ of rain per year, usually concentrated in the months from June to December, 5 where brief, intense floods occur frequently. Precipitation increases in the North Range, where it can receive up to 381 cm ³. During the dry season,droughts attack the top center of the territory, it is outside the hurricane belt.

what to wear :

The climate is tropical, so informal casual clothing is the rule.please use swimsuit and bikini only on the on beaches and rivers..

Geography :

Mapire is in the Bideau Parish - Paria Peninsula in the Valdez municipality of Sucre state , Most of the area consists of mountainous terrain with some small valleys and rivers flowing into the sea. this widely covered by tropical jungle. .

Geographic Scope :
North:Paria Peninsula National Park Mountains .
East:Road to Rio Grande .
West: Road to Rio Salado.

History :

Mapire was founded in 1805 by the British and Martiniqueans , the chapel was built in 1927 by the master builder Silvio Cruz .

PLACES OF INTEREST: Historic Homes of Rio Grande de la Costa..


PERSONAJES ILUSTRES DE RIO GRANDE DE LA COSTAJuana Dolores Valdéz, Nació en Yoco el 16 de septiembre de 1935. Es conocida como La poetisa de Yoco. Se residenció en Punta de Piedras a los 16 años cuando contrajo matrimonio con Félix Manuel Centeno. Se dedicó a componer versos, cuentos y diversiones, actividad por la que fue conocida en el municipio. Escribió más de cien poemas y cuentos versados y aproximadamente veinte obras y diversiones teatrales para el carnaval, llamados por el pueblo "Dramas de Carnaval" y que constituyen una manifestación cultural de la Península de Paria, con elementos del siglo de oro español y la comedia del arte italiano, así como del romanticismo teatral y la zarzuela. Entre estos dramas de carnaval destacan: Colón y su hijo Diego, El Cacique Guaicaipuro, La Mariposa, La Gitana y el Márquez entre otras. Entre sus poemas destaca Mi Nido Roto, en el que le escribe a sus once hijos a quienes denomina siete palomitas y cuatro pajaritos. En 1995 fue declarada patrimonio cultural viviente del estado Sucre. Falleció en febrero de 1995.

Mapire Cove

This beautiful cove is home to several fishermen families . It has a small river that supplies the needs of the population of this important fluid. This bay is open to the south. The beach is 100 meters long ....

Regulo Sucre
Municipio Valdez Mayor
Estado Sucre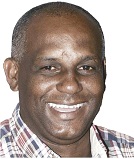 ---
Links
---
Calendar of Events
2014
| | |
| --- | --- |
| New Year | Enero |
| Carnival | March |
| Easter | April |
| Mother's day | May |
| The Virgin of the Valley (Virgen del Valle) | May 31rst |
| Independence day | July |
| Christmas | Deceember |
| | |
---
Aerial View
---
Contact
| | |
| --- | --- |
| Fundacion Turismo de Mapire | |
| Peter Ponce | |
| Director | |
| Calle Principal | |
| Mapire - Municipio Valdez | |
| Edo Sucre - Venezuela | |
| Email : tourisminfo@yahoo.com | |
| Téléfono :(0294) 411 32 65 | |
| Celular :(0426) 672 41 71 | |